How to mount a Merlin head on the Dynamic Perception Stage One Slider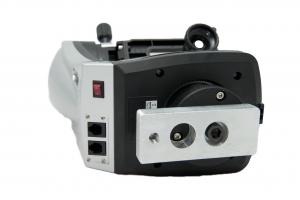 The plate of the Dynamic Perception Stage One Slider is smaller than the plate of the Stage Zero. This makes it a bit hard to mount the Merlin 2-axis pan and tilt head on the Stage One dolly. The Merlin cannot turn freely because the motor is in the way. You could drill an extra hole in the plate, but who wants to do that with this beautiful camera slider.
Time to spend some time behind my milling machine. The result is a small adapter. This adapter is mounted under the Merlin head. I milled a small chamber in the 15mm thick adapter so that the bold that mounts the adapter to the Merlin head is sunken in the adapter. The other end of the adapter holds a threaded hole in which the standard 3/8"-16 bolt fits that you normally use to mount a head on the Stage One slider.
The Merlin pan and tilt head can now be mounted on the Stage One camera slider. The head is a bit to the side now, but it can turn full without touching the motor of the dolly. This may put some strain on the rails, but I have not found any uses with that yet. The cart us running smoothly on the rails. I will test this combination a lot during the next few weeks. Please keep an eye on this blog, I will post my findings of course.
We are able to provide this adapter for free to our customers if you decide the get the Stage One Slider and the Merlin head from us. Please contact us if you are interested in this combination.
related products - Related Products