Dynamic Perception - Preview: MUX-4: 4-Way Isolated Camera Multiplexor


Every time lapser sometimes has the need to control multiple camera's at the same time. But how do you control multiple camera's connected to one time lapse controller like the MX2 motion controller or the nanoMoCo boards? Here's a sneak preview of a product coming out in a few weeks.
The MUX-4 is a 4-way multi-purpose multiplexor. Its primary purpose is to split one camera control into 4 safely, and can be daisy-chained into quite a few cameras. However, it can be used to split any two inputs into 4x2.
Key Features:
Complete optical isolation between all cameras and control inputs
Can work with isolated intervalometer outputs (like the MX2)
Runs on 2x AAA batteries, will last many months between changes
Manual triggering of the shutter/focus lines via pushbuttons
Can be daisy-chained (feed one output to the input of another)
Heavy-duty 6061 anodized aluminum construction for long-life
Easy removal of backdoor through two thumbscrews for battery replacement
Includes pads on the main PCB to tie into for your own experiments
(note: the laser etching on this unit is not the final production etching, errors in etching will not be present in production version.)
More can be found on the DynamicPerception forum: http://dynamicperception.com/forums/general-discussion/products/preview-mux-4-4-way-isolated-camera-multiplexor
We will have this product available in our ElysiaVisuals store as soon as it is available.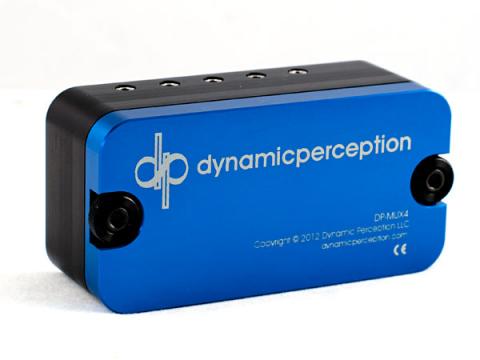 related products - Related Products