App support for the RamperPro - how to use the WiFi features


The App support of the RamperPro makes it possible to follow the progress and images of your time lapse shoot on your smartphone, tablet or laptop. You only need to connect to the WiFi network of your RamperPro and point your browser to IP address 10.0.0.1
Step One - How to add WiFi support to your RamperPro1 or RamperPro2
The RamperPro3 has built-in WiFi support. But that doesn't mean that you cannot use the App or WiFi features of the RamperPro. You can add WiFi support to your exising RamperPro1 or RamperPro2 by using a WiFi USB dongle. The WiFi dongle that is supported is the Edimax EW-7811UN that you can also find in our online store. Just make sure to plug in the dongle to your RamperPro before you power the unit.
Step Two - Connect your device to the WiFi network of the RamperPro
Go to the WiFi settings of your device and select the RamperPro network. The default password of this network is: ramperpro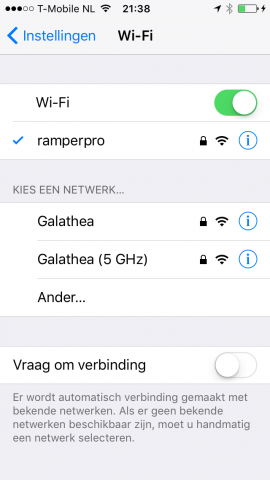 Step Three - Start the App
You can now connect your browser to the RamperPro because your device (which can be any modern smart phone, tablet or laptop) is connected to the WiFi network that is offered by the RamperPro. Point your browser to IP address 10.0.0.1
The Status "ball" indicates that your browser is still properly connected to the RamperPro. It should be green. Refresh your browser if the status indicator is orange.
| | |
| --- | --- |
| | |
| Successfully connected | Connection error. Refresh your browser |
The App screens will now be updated automatically when the RamperPro has taken an image in ramping mode or when you take a preview image.